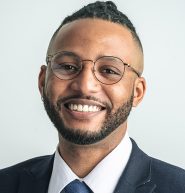 Jerrell Jackson
Digital Content & Engagement Manager
Jerrell Jackson is responsible for managing Marlboro's digital platforms and implementing the organization's digital strategy, including social media. He also serves as Digital Content and Engagement Manager for the Philadelphia Chamber Music Society.
Often the first point of contact for audiences who are learning about our concerts and programs, Jerrell enjoys engaging with music lovers online and at our concerts. A part of his role is to facilitate conversations in the digital space and to develop increasingly robust digital services for our audiences.
A native of Philadelphia, Jerrell studied at Temple University as a double bassist and performed with ensembles including the Chamber Orchestra of Philadelphia, Philadelphia Virtuosi Chamber Orchestra, Iris Orchestra, Orchestra 2001, Albany Symphony, and Opera Philadelphia. His work primarily focuses on reformatting the presentation of classical music and developing new models for the classical music industry. He is a contributing writer for New York's classical radio station, WQXR, and the record label Decca Classics.