Articles & Press
Marlboro has been fortunate to receive in-depth profiles in the local, national and international press. Below is a small summary of notable articles that have been written about Marlboro, exploring what Alex Ross (in his 2009 feature for The New Yorker) calls "the music world's most coveted retreat."
The Musicians of Marlboro
"At night, if you stand among the trees and listen, music wells out of the dark sky all around you, like dew." Washington Post feature, August 27, 1978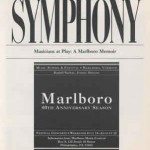 Musicians at Play: A Marlboro Memoir
An article written by Richard Woodhams, principal oboist of the Philadelphia Orchestra, for Symphony Magazine, recounting the history and influence of the festival from the perspective of an eminent orchestral musician.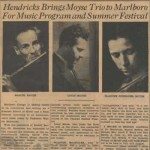 Hendricks Brings Moyse Trio to Marlboro
Article published in the local Brattleboro Reformer in 1950, announcing what would become the Marlboro Music Festival. The Serkin and Busch families had settled in nearby Guilford, Vermont and lured the Moyse family to emigrate to the United States with the promise of teaching positions at the newly formed Marlboro College.