Some of the best chocolate anywhere and a fine restaurant - a lunch favorite of ours for many years.
The town has a beautiful green with lovely churches, a town hall and lovely old houses - which over the years has become a summer spot many Bostonians, as well as Ken Burns. Take Route 91 North to Exit 5; make a right turn and follow signs to Walpole. About 40 minutes from Marlboro.
More information is available on the official Burdick's website

The great Irish glass artist bought an old grist mill many years ago and, in addition to glass blowing and pottery making in the basement and a showroom with his glassware and other area crafts, there is an excellent restaurant overlooking a waterfall.
On the way there or back, stop in the lovely town of Woodstock (was the home of Laurence Rockefeller and the family's Woodstock Inn - see the huge fireplace in the lobby). Also Quechee Gorge and other fun things in the area.
Take 91 North to 89 North, get off at Exit 1 and follow signs to Quechee and Simon Pearce (right at flashing light). About 1 hour and 15 minutes from Marlboro.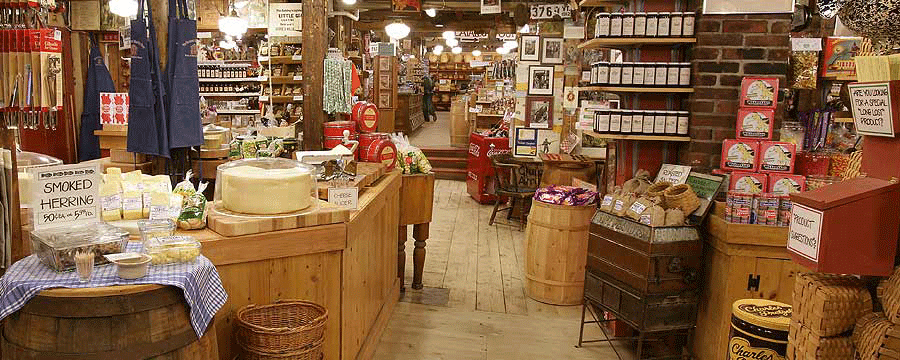 This iconic store has toys, clothing, "penny" candy, food, kitchenware and other products from 60-70 years ago and samples of cheese, dips and lots more.
The town is home to a lovely little town green and a very good summer theater company. Nice early American-type restaurant next door; if there is a waiting list, they will call your name while you are in the store.
Travel on Route 30 from Brattleboro through many lovely Vermont towns to Route 100 and follow signs to Weston. About 1 hour and 15 minutes.
From Weston, it is another 15-20 minutes to Manchester, VT and outlet stores for those with an outlet mania. Northshire Bookstore in Manchester Center is a great bookstore.

One of the great collections of Impressionist Art and lots more in the town that is also the home of Williams College and Williamstown Theater Festival.
About an hour or a bit more from Marlboro; take Route 9 West to Bennington and then follow signs to Williamstown.

The Retreat Farm, which is situated next to the Grafton Cheese Shop on Linden Street/Route 30, is a really great outing with kids (or adults). Wonderful variety of farm animals to pet and hang out with. 
Also don't miss the farmer's market in West Brattleboro for lunch (lots of different ethnic food booths) on Saturdays (open 10-2). It's also great for crafts and produce.
Details at the Retreat Farm website and the Brattleboro Farmer's Market website
---