Join the Summer Staff at Marlboro
Marlboro Music is widely considered to be the world's leading center for the in-depth exploration of chamber music by outstanding professional musicians. For seven weeks each summer in the rural community of Marlboro in southern Vermont, some 80 musicians of diverse ages and backgrounds live together with staff members, spouses, and children—forming one large and nurturing musical family.
The program takes place on the leased 400-acre campus of Marlboro College. Musicians and staff members are housed in dormitory rooms and eat together in the campus dining hall. Summer positions include a substantial stipend plus a room on campus and all meals—and the food is excellent! Staff members work six days a week during the season and also contribute to the pre-and-post season setting up and breaking down of the festival. During the summer, staff enjoy much of the music, the social events, the unique community, and the beautiful Vermont countryside.
Since not all jobs may be available when we receive your application, please let us know all position(s) for which you would like to be considered, in order of your preference. We encourage you to apply early, as positions are often filled quickly.
All summer staff members must be available June 10-August 22 unless otherwise noted. 
Application deadline: April 15, 2017.
Click to apply now or follow the link below the job descriptions.
.
LIFEGUARD
The lifeguard spends fair weather days supervising the private festival beach at a nearby lake (4.5 miles from campus) that is fondly referred to by participants and staff as "the pond." The lifeguard also assists with parking at concerts and may assist the stage crew or members of the festival staff as necessary when weather does not permit pond-going. Must be at least 18 and have or complete a lifeguard certification.
.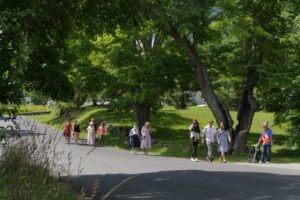 FESTIVAL STAFF/HOUSEKEEPING 
Three integral festival staff members are responsible for maintaining all festival facilities, including the cleaning and maintenance of dormitories, offices, and the Concert Hall. They also assist with parking before and after events. Project management, communication, and organization skills are necessary along with hard work and teamwork throughout the summer.
.
..
ADMINISTRATIVE ASSISTANT/RECEPTIONIST 
The receptionist works closely with Marlboro's communications assistant at the front desk of the concert hall. Primary duties include answering phones, greeting patrons, and providing general administrative support to senior staff. The receptionist also coordinates on-campus social events and facilitates CD and book sales at concerts. Office experience, knowledge of classical music, and a friendly demeanor are essential.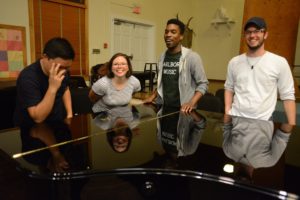 STAGE CREW 
During the season, this crew of three to four members is responsible for the technical operation of the festival, driving musicians to and from the airport, running errands in town, helping with social events, and preparing the stage for rehearsals and concerts. Flexibility and ability to work in a team are of paramount importance, and knowledge of chamber music is very helpful. Must be at least 21 and have a valid driver's license.
ASSISTANT RECORDING ENGINEER
The Assistant Recording Engineer assists the Recording Engineer with setting microphones, setting up equipment for recordings, and operating physical media recorders. He/she also maintains a database of festival recordings and is responsible for scheduling, making, and copying rehearsal recordings as requested by musicians. The ability to read music is necessary, familiarity with chamber music is helpful, and candidates should know their way around audio equipment and software, including Mac, Windows, and Linux (Debian) computers and networking. Experience with Cubase or Nuendo is helpful but not required. Must be available from approx. July 7 -August 17.
.
1528 Walnut Street, Philadelphia, PA 19102 | info@marlboromusic.org | t: 215.569.4690 | f: 215.569.9497