Join the Summer Staff at Marlboro
Marlboro Music is widely considered to be the world's leading center for the in-depth exploration of chamber music by outstanding professional musicians. Each summer, under the artistic leadership of Mitsuko Uchida and Jonathan Biss, 80 musicians of diverse ages and backgrounds come together in southern Vermont, living with staff members, spouses, and children to form one large and nurturing musical family.
If you love chamber music, community, and the natural beauty of Vermont, we encourage you to apply to join our summer staff. Successful applicants will be flexible team players with an interest in music, collaboration, and the festival environment. Positions are listed below and include operations, administrative, housekeeping, hospitality, and lifeguarding roles.
Summer positions provide a substantial wage plus full room and board (a single room on campus and all meals). Staff members work six days a week during the season and also facilitate the pre-and-post season set up and break down of the festival. During the summer, staff members enjoy much of the music, the social events, the unique community, and the beautiful Vermont countryside. 
To apply to join our 2023 summer staff, please complete our online application or send us an e-mail with a current resume and a cover letter explaining what interests you most about working at Marlboro. Must be available June 9-August 23, 2023.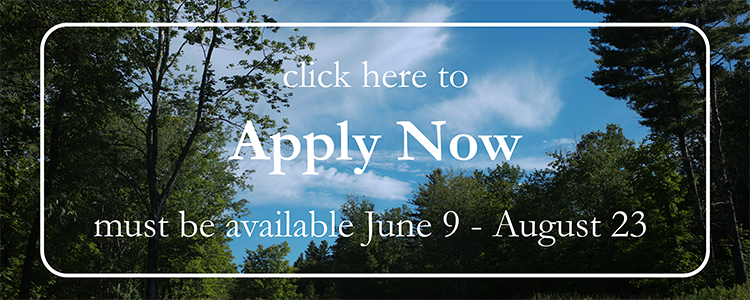 Summer Positions
Coffee Shop Manager: Two coffee shop managers run the social hub of campus, which is typically open for late breakfast in the morning and for light fare and socializing in the evening. Managers are responsible for maintaining a weekly menu and welcoming environment while working closely with the social coordinator to plan evening activities and special events. Food preparation experience and a friendly, flexible demeanor are essential qualities for this role.
Stage Crew/Operations: The stage crew team is responsible for the technical operation of the festival, including but not limited to: preparing the stage for rehearsals and concerts; driving musicians to and from the airport; setting up social events; running errands in town; completing general maintenance requests; handling/routing emergency response; and generally maintaining the quality of life on campus. Must be flexible and team-oriented with strong time management and problem solving skills. Knowledge of chamber music is helpful. Must be at least 21 with valid driver's license.
Festival Staff/Housekeeping: Festival staff members are responsible for maintaining all festival facilities, including the cleaning and maintenance of dormitories, offices, and the Concert Hall. They also assist with parking before and after events. Must have strong communication skills, attention to detail, and the ability to work cooperatively as part of a team.
Reception/Administrative Assistant: Two receptionists work closely with Marlboro's administrative team and serve as a primary point of contact for visitors and audience members throughout the summer. Strong organizational, communication, and writing skills, attention to detail, and the ability to multi-task are essential. Must also enjoy working with the public and be comfortable answering phone, email, and in-person inquiries. A knowledge of chamber music and experience with social media is helpful.
Lifeguard: The lifeguard spends fair weather days supervising the private festival beach at a nearby lake (4.5 miles from campus) that is fondly referred to by participants and staff as "the pond." The lifeguard also assists with parking at concerts and may assist the stage crew or members of the festival staff as necessary when weather does not permit pond-going. Must be at least 18 and have or complete a lifeguard certification.
Questions?
If you have any questions about summer employment at Marlboro, please contact Jody Alan Lee at jlee@marlboromusic.org.