Join the Summer Staff at Marlboro
Marlboro Music is widely considered to be the world's leading center for the in-depth exploration of chamber music by outstanding professional musicians. Each summer, under the artistic leadership of Mitsuko Uchida and Jonathan Biss, 80 musicians of diverse ages and backgrounds come together in southern Vermont, living with staff members, spouses, and children to form one large and nurturing musical family.
If you love chamber music, community, and the natural beauty of Vermont, we encourage you to apply to join our summer staff. Successful applicants will be flexible team players with an interest in music, collaboration, and the festival environment. Positions are listed below and include operations, administrative, housekeeping, hospitality, and lifeguarding roles.
Summer positions provide a substantial wage plus full room and board (a single room on campus and all meals). Staff members work six days a week during the season and also facilitate the pre-and-post season set up and break down of the festival. During the summer, staff members enjoy much of the music, the social events, the unique community, and the beautiful Vermont countryside. 
To apply to join our 2023 summer staff, please complete our online application or send us an e-mail with a current resume and a cover letter explaining what interests you most about working at Marlboro. Must be available June 9-August 23, 2023.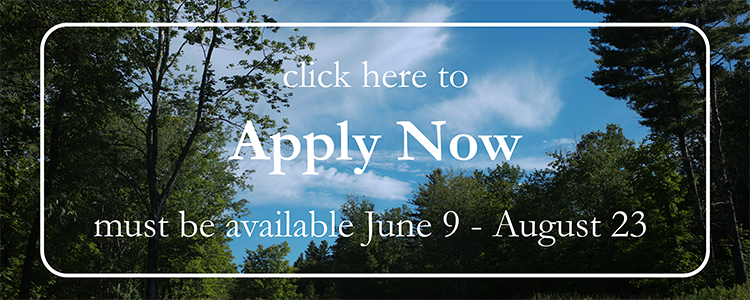 Summer Positions
Festival Staff/Housekeeping: Festival staff members are responsible for maintaining all festival facilities, including the cleaning and maintenance of dormitories, offices, and the Concert Hall. They also assist with parking before and after events. Must have strong communication skills, attention to detail, and the ability to work cooperatively as part of a team.
Assistant Recording Engineer: The assistant recording engineer assists the recording engineer with setting microphones, setting up equipment for recordings, and operating physical media recorders. They also maintain a database of festival recordings and are responsible for scheduling, making, and copying rehearsal recordings as requested by musicians. The ability to read music is necessary, familiarity with chamber music is helpful, and candidates should know their way around audio equipment and software, including Mac, Windows, and Linux (Debian) computers and networking. Experience with Cubase or Nuendo is helpful but not required. Must be available from approx. July 6 to August 16.
Questions?
If you have any questions about summer employment at Marlboro, please contact Jody Alan Lee at jlee@marlboromusic.org or Brigid Mary Lucey at blucey@marlboromusic.org.