David Golub (March 22, 1950 – October 16, 2000) 
Born in Chicago in 1950, David Golub moved to Dallas at the age of five with his Polish-born parents. His father, an engineer, was a music lover and amateur musician who played a number of instruments including the violin and piano, which sparked David's curiosity early on. David studied in Dallas with Alexander Uninsky and entered Juilliard at age 18 as a pupil of Beveridge Webster. While a student, he attended Marlboro Music in the summers for several years and later toured with the Musicians from Marlboro series.
David's propensity towards dialogue and collaboration made him a natural chamber musician and also led him to Marlboro in the early '70s, "playing chamber music all day long and doing scads of repertoire," he said. "Playing with older, more experienced musicians, including Felix Galimir and Pablo Casals, was a great experience." One year he conducted the community orchestra in a concert that included the Siegfried Idyll and the "Emperor" Concerto with Emanuel Ax, a Juilliard schoolmate.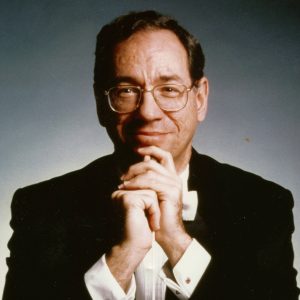 His eclectic interests were reflected in the wide scope of his repertoire, ranging from Renaissance English composers to contemporaries such as Bruce Adolphe and Nicholas Maw. He enjoyed a distinguished career as a soloist, regularly performing with major orchestras in the US and overseas. With James Conlon he played the complete Mozart and Beethoven concertos, and other significant associations include those with Semyon Bychkov, Eduardo Mata, and David Zinman. Of particular note is his recording of Gershwin's Concerto in F and Rhapsody in Blue with the London Symphony Orchestra and Mitch Miller (on Arabesque), which Time magazine honored among the ten best records of 1988.
During the 1970s David also toured in concentrated periods with cellist Leonard Rose who then recommended him to Isaac Stern as recital partner. This led to the historic tour of mainland China in 1979 documented in the Academy Award-winning film From Mao to Mozart.
David co-founded the Golub-Kaplan-Carr Trio with violinist Mark Kaplan and cellist Colin Carr (also a Marlboro participant); the group recorded extensively, winning the AFIM Indie award for best classical ensemble in 1995. Golub was also a key member of the Chamber Music Society of Lincoln Center by invitation of David Shifrin, a close colleague and friend.
Already during his studies, David felt the fascination of the orchestra as the most complete of musical instruments; in his development as conductor, he was mentored by both Bychkov and Conlon, and he increasingly turned to the podium in his later years. His extensive cooperation with the Padua Chamber Orchestra, with which he toured the United States in 1999, is represented in a number of recordings. Another of David's passions was for the voice, both as regards Lieder and opera. His affinity for Italian art, culture, and way of life was enhanced by personal circumstances, as he married Maria Majno in 1981 in Milan and gradually spent more time in Italy, where he contributed to the rediscovery of rare 18th century operas at Festival della Valle d'Itria (recorded for Dynamic). He died at the age of 50 after a short illness, during which music was unceasingly present.
Listen to an archival recording of a live performance (July 25, 1971) of the Dvořák Piano Trio in G Minor, Opus 26, B. 56 with David Golub, piano; Ani Kavafian, violin; and Siegfried Palm, cello.
Help Us Reach Our Goal of $500,000
Marlboro is grateful to David's family for generously offering the initial  gift of $250,000 to the David Golub Piano Fund, which will be used to provide concert-quality pianos for world-class artists to use during their time of study, work, rehearsal, and performance at Marlboro Music.
We are inviting friends like you to help us double this generous gift and reach our goal of $500,000. Donations in all amounts will be gratefully acknowledged and and larger gifts ($10,000 and up) can be made in installments. All donations are tax-deductible in the United States, and contributions over $650 will be listed in our seasonal Program Book.
To add your gift to the David Golub Piano Fund, please visit marlboromusic.org/donate.
Sign up to receive program announcements, exclusive recordings, treasures from our historic archive, and more.