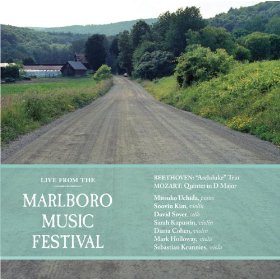 Quintet for 2 Violins, 2 Violas and Cello No. 5 in D Major, K. 593 – Wolfgang Amadeus Mozart
Sebastian Krunnies (Viola), Diana Cohen (Violin), David Soyer (Cello), Sarah Kapustin (Violin), and Mark Holloway (Viola).
Recorded on July 16, 2005
Trio for Piano and Strings No 7 in B-flat major, Op. 97, "Archduke" – Ludwig van Beethoven
Mitsuko Uchida (Piano), David Soyer (Cello), and Soovin Kim (Violin).
Recorded on July 23, 2006
Trio for Piano and Strings #2 in E-flat Major, D. 929/Op. 100: 2nd movement, Andante con moto – Franz Schubert
Mitsuko Uchida  (Piano), David Soyer (Cello), and Soovin Kim (Violin)
Recorded on July 13, 2008