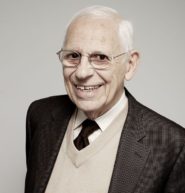 Anthony Checchia
Senior Administrator Emeritus
Tony has served Marlboro for more than fifty years. He and his co-administrator, Frank Salomon, have played a key role in its development. He is also the Founding Artistic Director of the Philadelphia Chamber Music Society, which he started in 1986.
Mr. Checchia was co-recipient, with Frank Salomon, of a lifetime achievement award from Chamber Music America. He has also received a lifetime award from the Musical Fund Society of Philadelphia and an Honorary Doctorate from the Curtis Institute of Music.
Trained as a bassoonist at the Curtis Institute, Mr. Checchia performed for orchestras including the Baltimore Symphony and New York City Ballet. He was Assistant Director to Rudolf Serkin of the Curtis Institute of Music; has served on the boards of The Presser Foundation and Musical Fund Society of Philadelphia; and has been an adviser to the Pew Fellowships in the Arts and Astral Artistic Services. He is married to the soprano, Benita Valente, whom he met at Marlboro.