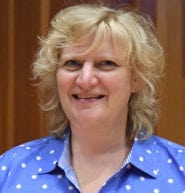 Karen Kloster
Operations Director
Karen Kloster joined the Marlboro Music family in 1987 as Head Stage Manager and then transitioned to Operations Director. She works directly with the staff of Marlboro College for the annual transition of the facilities to Marlboro Music. She oversees the piano deliveries from Steinway and housing preparation for all musicians and staff and coordinates the arrivals of musicians.
Karen trains the  summer staff each season as they set up houses, cabins, cottages, dorms, and rental houses for the musicians' arrival.  During the summer, the operations crew prepares for rehearsals, special events, orchestra readings, picnics, square dances, and five weekends of concerts.
In addition, Karen manages the logistics for three east coast Musicians from Marlboro tours and one national tour each season.
She has a degree in mathematics from the College of William and Mary and works also as a Tour Coordinator for Columbia Artists. She toured symphony orchestras and opera companies for 17 years and now does the behind-the-scenes preparations, routes, budgets, and logistics for 5-10 orchestra tours each season.
Karen splits her time between New York City and Vermont where she lives with her partner, Butch Kaeppel of Butch's Moving and Storage. Butch has moved all of Marlboro's pianos for over 35 years.